Greetings! If you did not get a chance to attend an info session with our talented curator, Amanda Parmer, or if you did, but still have questions, below are some answers to help you apply for the AMT Undergraduate Festival Exhibition and Limited Edition Pop Up Shop. Applications are due by 11:59pm, today, Monday, April 15th
Click here to access the submission form. Note: You must be logged into your @newschool.edu account to access the form.
***
Q: Can I apply to both the Exhibition and The Pop Up Shop? Can I apply to just the Pop Up Shop or just the Exhibition?
A: Yes, to both. There is one application for both the exhibition and the pop up shop, as the two are being organized in dialog with one another. The curator will determine from your submitted samples if you could potentially have work in both forums, or if the work is more appropriate for one over the other.
Q: How the work will be selected?
A: The work will be selected based on the relationships between the artworks and projects that you submit. The curator will be selecting applicants who contribute to expressing compelling connections between the different departments and subsequently will determine the inclusion of works that offer a holistic vision of shared interests across your graduating class in The School of Art, Media, and Technology.
Q: I'm not quite finished with the work I want to exhibit or have in the Pop Up. Am I doomed? 
A: No, you are not doomed. It is important to note that the works you submit in the application are not necessarily the works to be shown. The three images or videos you choose to upload for the application should be representative of projects you believe are the strongest in your current practice. These works could be from your first year, or they could be as recent as your thesis piece.
Q: I have a project that requires documentation from multiple angles, and has a lot details. Can I include multiple image urls for one project? 
A: No. If you would like to include detail images and angles please do so by compiling all of these components of the piece into a single jpeg (for example, as a pic stitch). Please do not submit more than one image for each work. If you have questions about image/video urls, skip to the bottom of this post now).
Q: How long should the video clips be? 
A: Please keep the video clips to a maximum of five minutes each.
Q: When will the applications be reviewed? 
A: Your applications will be reviewed between April 15th and 19th.
Q: When will the studio visits happen? 
A: Once all of the applications have been reviewed, the curator will be meeting with those of you who have been selected for studio visits to discuss your work and possible inclusion in the exhibition and/or pop up shop. These studio visits will be held between April 19th and April 23rd.
Q: What happens after my work is selected for the exhibition and/or pop up shop?
A: You and the curator will discuss the installation schedule and work together to plan how best to present the piece in dialog with the other projects.
Q: When will  selected works need to be received for the physical installation and/or shop set up? 
A: Selected works will need to be received for the installation on April 25th. 
Q: Where and when are the Exhibition and Pop Up going to be? 
A: The exhibition will be held in the Kellen Gallery—from May 9th to May 24th—and the showcase of selected limited edition works will be hosted as an on campus pop up shop from May 20th to May 24th.
Q: I see that I can only include image/video links on the form. I don't have a website or a place online to put images or video to link to. What can I do? 
A: For the form, we need image/video urls. If you don't have your images housed on your website or other online forum, you can upload images and video to Google Drive, and get a sharable url for each file. See instructions on how to do that below.
Manually upload files and folders to Google Drive
Google Drive allows you to upload and store files in the cloud. You can manually upload both files and folders, including images and videos.
There are two ways to upload files to Google Drive:
Drag-and-drop file upload
You can drag-and-drop your files directly from your computer into your Google Drive.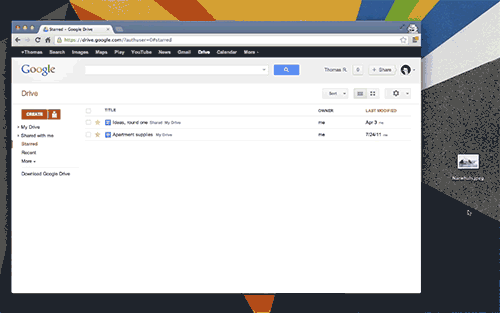 This feature is available only in the latest versions of Chrome and Firefox. If you aren't working in the latest version of Chrome or Firefox, you can click the Upload button and select Files…from the drop-down menu.
File upload
To manually select files from your computer to upload to Google Drive, follow these steps:
In your Google Drive, click the Upload button and select Files… from the drop-down menu.
Select the file you'd like to upload. To select multiple files, press Shift or Ctrl and click all the files to upload.
Your file will appear in My Drive.
Send a link to a shared file
If you've set a file or folder to "Anyone with the link" or "Public," you can send the link to another person and they'll be able to access it.
Go to drive.google.com.
Check the box next to the file or folder you'd like to share.
Click the Share icon .

Copy the link at the top of the sharing settings.
Q: I still have more questions! Who do I ask? 
A: Should you have more questions regarding the exhibition and application process, please email the AMT Program Administrator, Leslie Henkel: henkell@newschool.edu.